Tore Nagel making a statement about his current personal satisfactory level after gently placing his butt in the grassy field of an undisclosed location in Møre og Romsdal, Norway. Not visible: Tore's vintage knitted socks that he inherited from his father. Be certain that he's wearing them, though. Jumping without them would be quite impossible.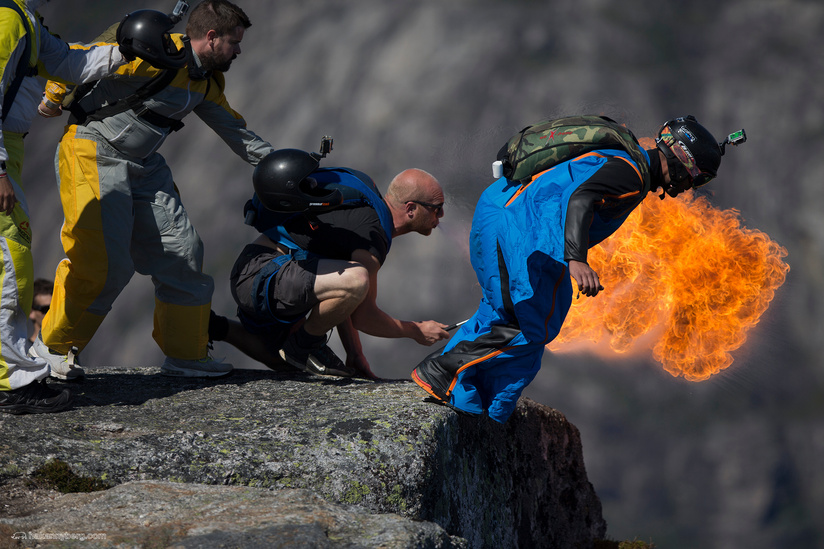 Dutch fire-stunt expert JP de Kam providing the dramatic backdrop for Roy Kenneth Roland's wingsuit jump with Fernando Álvarez-Uria Torres being next in turn. Not too long ago, Roy Kenneth was taken away from us, after a fatal jump in Lauterbrunnen. Dette er ufattelig trist. All thoughts and condolences to Roys close friends and family.
The diving board near Exit #6 was considered a very safe exit because of its overhang. It also provided photographers with a stunning backdrop, especially when jumping before noon... Even though it was a stone formation, the diving board vanished into the valley during the winter of '13/'14.
Facu travelled all the way from Argentina to jump from Kjerag (that would be 11874 km corresponding to a 15 hours and 19 minute-long flight). Here he is on Exit #6, all suited up, GoPro switched on, waiting for the 10 second call, preparing for a flight with a duration of about 35 seconds.
The most amazing place in the world if you like to step off a kilometer-high cliff. It has the view. It has the dramatic landscape. It has Olav's Pub. It has... well, everything. This photo is unusual as I am not sure of any of the jumpers' names. I'm saving this space to insert them here (no athlete should never jump uncredited). Drop me a mail if it's you!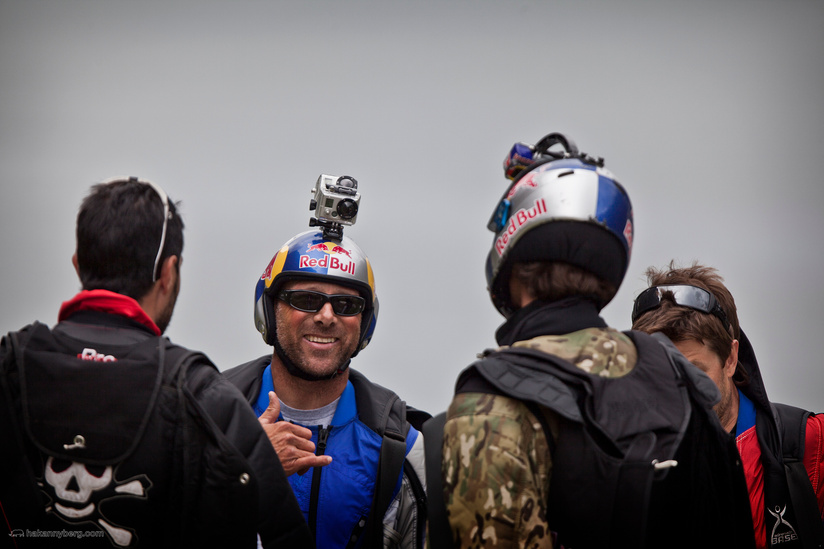 Ladies and gentlemen, meet Miles Daisher, inventor of skyaking and the "World's Greatest Base Jumper in the World". Here among his flying buddies after soft landings in the Geitaneset LZ. Even if you would send out a whole team of researchers, they would find it hard to find anybody, anywhere, even remotely as stoked on life as Miles.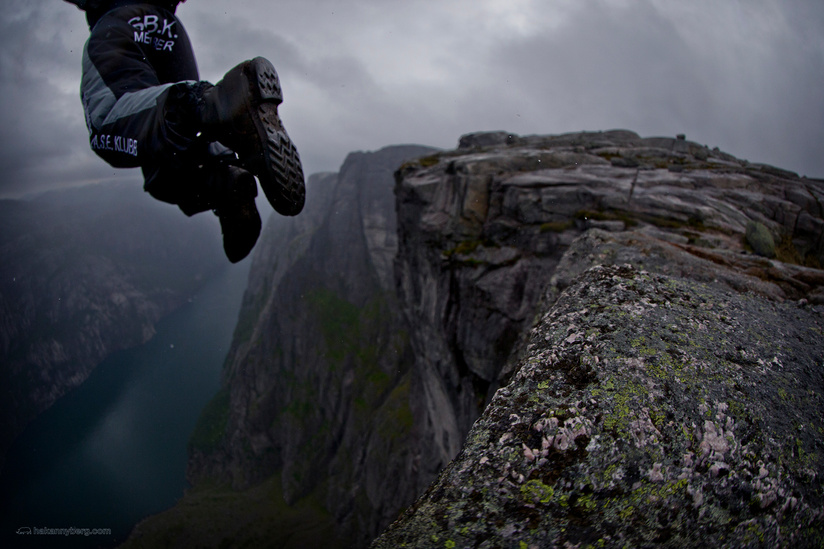 An SBK tracking suit leaving Exit #6 during the 2013 SBK Heli Boogie. Lysefjorden remained cloudy on this day but jumpers kept on jumping. Rima believes this is Håkon, but is it?
The Geitanes LZ: Markus Anhorn looking back on the Kjerag cliff he left a minute ago. Markus sadly passed on June 8, 2019. Fly free and stay stoked, you crazy you.
At the SBK Heli Boogie, stuff like this may unfold in front of you. This is a 7-way jump with, among others, Tom Erik Heimen (white helmet right in the middle) and Alexander Polli (blue/white tracking suit holding hands at the bottom – and greatly missed). That day, the 18th of June 2013, was a beautiful day to jump.
My main man, Trond R Teigen, in his 3rd jump (Exit #6). That's one Trond, not the entire Teigen family jumping.
After buzzing the Bispen curve in the Matchstick Production's 2007 release "Seven Sunny Days", the man in the middle of this pic, Espen Fadnes, changed the world's perception of how it's possible to fly a wing suit. About 1,000 base jumps later, he and the boys are making their final approach towards the Geitanes landing zone after exiting from The Waterfall.
In the middle of this picture: One of the more badass wingsuit pilots I've met and also one of the most skilled. Online he goes under the nickname Bruce Lee and has released videos like this and this. Here approaching Olav's camping after exiting the Smellveggen wall in Lysefjorden on June the 17th 2014.
That was one epic day in June 2011. In yellow tracking pants: Brad "Patto" Patfield, legendary base instructor who have spent several summers in Lysebotn, teaching well over 130 students the basics of base. In black and white:
Anders Lau Nielsen
, Danish jumper, photographer and one helluva tracker, taking off with a Canon 5D on his helmet.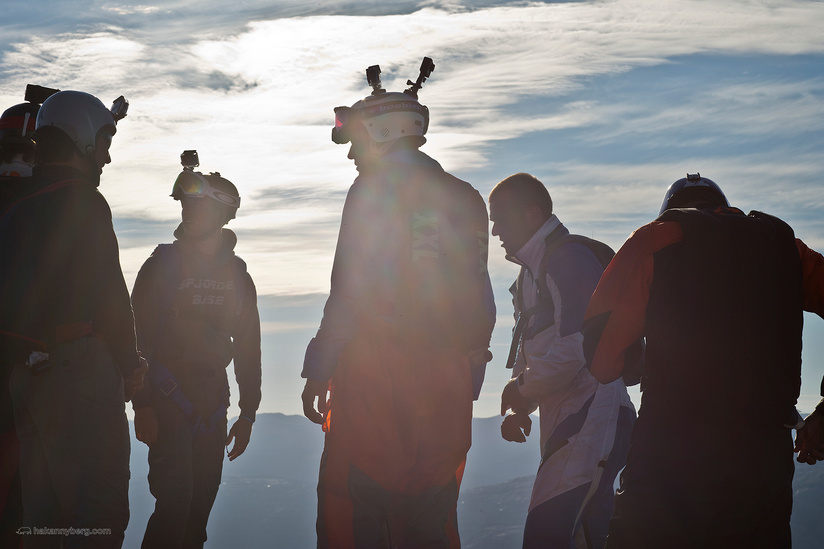 A little bit of conferencing going on prior to a 7-way (9-way? 12-way?). Visible here are two of the top base jumpers in the world. In the white helmet: Tom Erik Heimen, well known for the Nordic TV-audience for the spectacular fly-by in "Oppdrag Sognefjord". In the white and blue tracking suit: Alexander Polli, the guy who flies through holes in mountains.
2/3 of Klovn Base tumbling towards the ground from Exit #6. Bård Hansen and Kristian Tolås Trondsen spinning towards the ground. (The remaining 1/3 of Klovn Base can be seen wearing knitted socks in other photos on this site.) After a fatal jump near Molde in January 2018, Kristian is no longer with us. You are very missed, brother!
One of my favorite human beings of all time, former radio personality Tore Nagel of Norway, taking certain steps and measures to exit Exit #6 during the heli boogie in June 2013. All those who have seen Tore flying without his knitted socks, possibly part of the official Norwegian Olympic outfit of 1948, please raise your hands now!